Things To Do In Central & Southern Maine May 30, 2018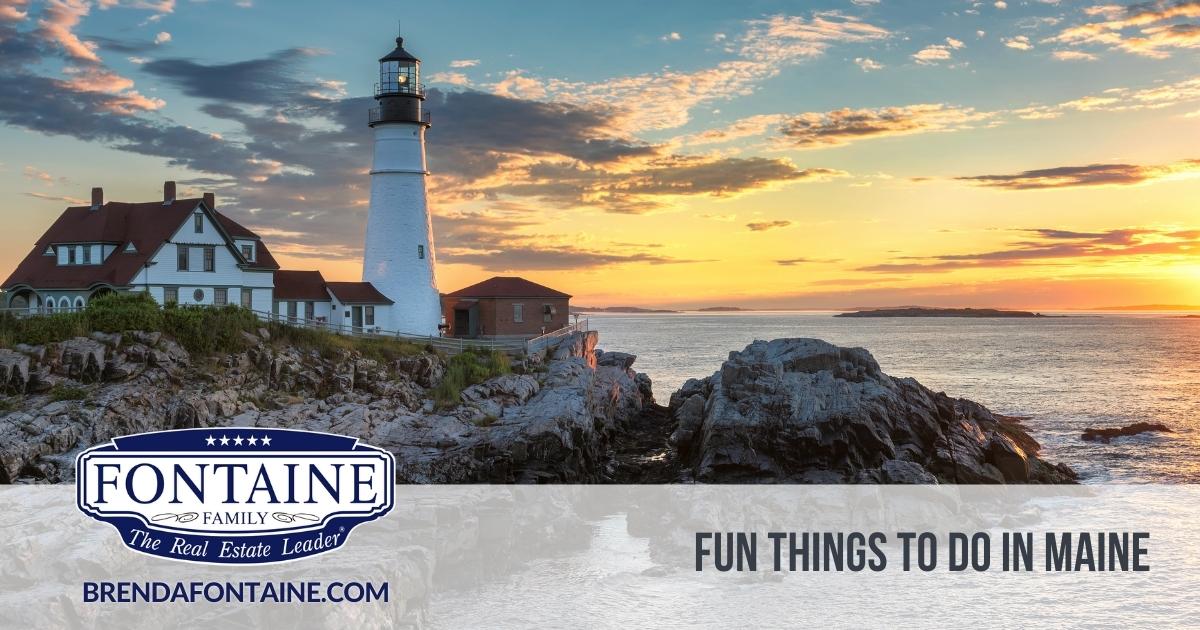 Maine is a great place to live with a wide variety of things to do all year!
Everyone has their own favorite corner of Maine, so it's nearly impossible to come up with the best things to do. Rather than just supplying a list of the popular places to visit in Maine, here are some ideas for unforgettable things to do all across the Pine Tree State.
Since we call Maine our home, we often forget there's quite a few places worthy of a bucket list or two. You'll find 25 activities below are great for friends and family, along with any out of state visitors.
1. Swim on top of a mountain
Tumbledown Mountain, near Mount Blue State Park, is not only a beautiful hike in western Maine–there's also an alpine pond nestled between the three peaks where you can cool off on a summer hike.
2. Snag a selfie with a giant boot
L.L. Bean really is a staple in Maine. The flagship store in Freeport is a great place to stop and make sure you're stocked up on outdoor gear–and get a Bean Boot photo while you're at it.
3. Stop and smell the flowers
Coastal Maine Botanical Gardens has the largest botanical gardens in New England!
4. Go whale watching
Maine has 3,500 miles of coastline and its ocean waters are host to many types of whales–Humpbacks, Finbacks, and more–making whale watching a favorite summer activity.
5. Catch a summer concert
Bangor Waterfront is host to the most popular bands from country music to heavy metal and stars whose names aren't known yet. Plus, check out the annual American Folk Festival, which draws close to 100,000 people over the course of three days in August.
6. Tackle Maine's whitewater
If you're heading inland but still crave a thrill, whitewater rafting on the Kennebec is where it's at. There are even some parts that kids (and those less adventurous) can do.
7. Spend lazy summer days upta camp
Translation: going to a cabin on a lake. Maine summer days at the lake are simple, spent skipping rocks and doing cannonballs, listening to the echoes of loon calls floating across the water. There are plenty of camps for rent on one of Maine's 6,000 lakes and ponds.
8. Take a summer art walk
From Portland to Presque Isle, and Bangor to Bar Harbor, there are art walks in downtown areas all over Maine during warmer months.
9. Go apple picking.
There are over 100 varieties of apples grown in Maine, and apple picking is as much of a fall activity as leaf peeping! Make sure you try some fresh apple cider while you're at it–either cold or hot with spices, there's nothing like it in the fall.
10. Try your hand at ice fishing
When Maine's 6,000 lakes and ponds freeze over during the deep of winter, there are plenty of ice fishing opportunities. Head out on a remote lake with a registered Maine guide who can take care of all the equipment.
11. Venture around the state on a snowmobile
Heading out on Maine's 14,000 miles of groomed snowmobile trails is enough to get a grown man giddy. This is a favorite winter sport for Mainers, and there's plenty of opportunity for visitors to rent sleds or go on a guided trip–head west or north for the best snowmobiling in Maine.
12. Learn more about Stephen King
Bangor is not only the city that he's called home for a few decades, it's also the inspiration for the fictional town of Derry. Fans of the fiction writer can take a tour (SK Tours of Maine) of many significant spots around town–including seeing the outside of his creepy house.
13. Witness the first sunrise in the United States
On Cadillac Mountain in Acadia National Park, you'll be joined by a slew of other cars driving to the summit in the wee hours of the morning–all in pursuit of seeing the first sunrise in the USA.
14. Hike up Maine's highest mountain
Scale the highest mountain in Maine: Mount Katahdin. It's the northern point of the Appalachian Trail where you can witness thru-hikers reaching the end of a 2,000-mile trek if you time it right.
15. Go to the fair
From summer through fall, fair food meets farm show as agricultural fairs pop up for a few days at a time throughout Maine.
16. Visit the desert
It's not technically a desert, but this little spot near Freeport is an unusual attraction and one of Maine's most famous phenomena. The Desert of Maine is a result of modern farmers not properly rotating crops, causing erosion that eventually uncovered 40 acres of glacial silt.
17. Take a selfie at Mile 1
Head to "America's first mile" on Route 1, which stretches the length of the East Coast all the way to Key West, Florida.
18. See Maine from above in a hot air balloon
Aroostook County has been home to the start of two famous transatlantic balloon flights. Each year, more than a dozen colorful balloons launch into the sky in Maine's largest county during the Crown of Maine Balloon Fest.
19. Try a red hot dog.
Even if you personally don't see the appeal, they are decidedly a thing. There's even a red hot dog festival that happens every summer in Dexter. The Maine Red Hot Dog Festival is a fundraiser designed to attract a large number of people to the town where they will see all that Dexter has to offer, and to simply have fun!
20. Pan for gold in the Swift River
Prospecting for gold is still a thing in western Maine, and it's still very much on my Maine bucket list.
21. Stand in the shadow of Paul Bunyan
Standing proudly at 31 feet tall, this statue of the lumberjack legend has been a local landmark for more than half a century in downtown Bangor. It's a fun road trip destination that Mainers are proud to call theirs.
22. Try a whoopie pie
Maine may or may not be the birthplace of the whoopie pie, but Mainers love it enough to make it the official state treat and give it a festival. So you should probably eat one while you're here.
23. Eat a lobster roll on the docks
At Young's Lobster Pound in Belfast, it's BYOB, and it's a perfect spot for a picnic on the docks with fresh-as-it-gets lobster rolls.
24. Eat a potato donut
All the way from the northern reaches of Maine to the big city of Portland, Maine potatoes are the "secret" ingredient making everyone rave about these donuts.
25. Visit "Hobbitland"
The historic walking trails and nature preserve at Vaughan Woods feel a little extra magical when you know the local nickname. You won't find any hobbits there, but you'll still love exploring the stone bridges, waterfalls, and wild meadow.